Latest Club News
---
County Competitions
It is with regret that I am advising you that WCBA, WWBA & SWBA have all decided to cancel their full programme of competitions for 2020. The club are planning subject to an improvement in the coronavirus situation to run all of our competitions as normal. Watch this space for further details in due course.
David Wigman
22/03/20-19:00
---
Courier League Update
In view of the social distancing guidelines the start of the Courier League matches has been put back from early May to provisionally 24th June. We will update this site if anything further changes.
21/03/20-13:45
---
Club Update - April 2020 Fixtures
Following the earlier update the club has been left with no alternative but to postpone or cancel all of the planned matches during April 2020. The situation will be constantly reviewed and you will be advised as things change. Our website fixture list in "What's On" has been updated and will continue to be as we move forward.
Best wishes
David Wigman
19/03/20-20:30
---
Club Update
As a result of the current Coronavirus isolation and distancing guidelines the club are currently in ongoing discussions with Warwick District Council (WDC) to agree a process that all users of the greens can work towards to enable the greens to open as soon as it is safe to do so. In light of this issue and today's Bowls England statements the Management Committee will be considering options for the 2020 season and will update you all at the earliest possible time. In the meantime keep safe and well.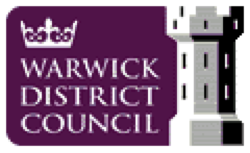 A news release from WDC on sports & leisure facilities can be found by clicking on the
WDC logo.
David Wigman
Updated19/03/20-12:00
---
Bowls England Statement
Bowls England have today announced the cancellation of the National Competitions in 2020 and as a result the National Championships due to be played at our club in August. A number of other events and International fixtures have also been cancelled. They hope to hold a bowls festival here in August subject to an improvement to the Coronavirus situation.

The full press releases can be viewed on the Bowls England website by clicking on the Logo.
18/03/20-15:00
---
Coronavirus
With ever changing advice being given in respect of how we should all react to protect ourselves and others from catching this virus, I would like to advise you that as things change we will update the news page on the club website.
Please visit the site regularly as the situation is constantly changing.
Could those people who update members without internet connectivity through our 'buddy' network please ensure that those you are linked to receive a telephone call to update them with any changed information.
As we all know a significant number of our members fall into the 'at risk' group either due to health issues and/or being over 70. Also there is an inevitability that some members outside this group may need to self isolate.
Please do contact us if you are in need of any help during this time and we will do our best to organise something for you.
With this in mind could those who feel able to support other members please let us know so that we can put you in touch with any people who need help.
As the season approaches we will continuely review the situation, taking into consideration advice from WDC, BE and the County associations and will update you with further details as soon as possible.
Keep well and safe - best wishes
David & Jane
17/03/20-10:00
---
Local children celebrate Commonwealth Day as the countdown to the 2022 Games continues
As the clock counts down to the Birmingham 2022 Commonwealth Games, local school children came along to Leamington Town Hall for a morning of fun and activities to celebrate Commonwealth Day.
Pupils and staff from Clapham Terrace Primary School joined the Chairman of Warwick District Council, members of the Birmingham 2022 Commonwealth Games project team, Bowls England and local bowls clubs to find out about the exciting plans taking shape for when the Lawn Bowls and Para Bowls competitions come to Royal Leamington Spa.
Following the official raising of the Commonwealth Flag, the year 4 and 5 children had the opportunity to chat to the Council's Commonwealth Games Project Manager and Commonwealth Games gold medallist Christina Boxer and take part in a fun New Age Bowls challenge.
The Chairman of Warwick District Council, Councillor George Illingworth commented;
"We should all be excited and proud that the Bowls event for the 2022 Birmingham Commonwealth Games is coming to Royal Leamington Spa. For these young people it will be something that they will remember for the rest of their lives. It is therefore important that they have the opportunity to find out about the Games and the significance of hosting a large international event attracting competitors and visitors from all over the world."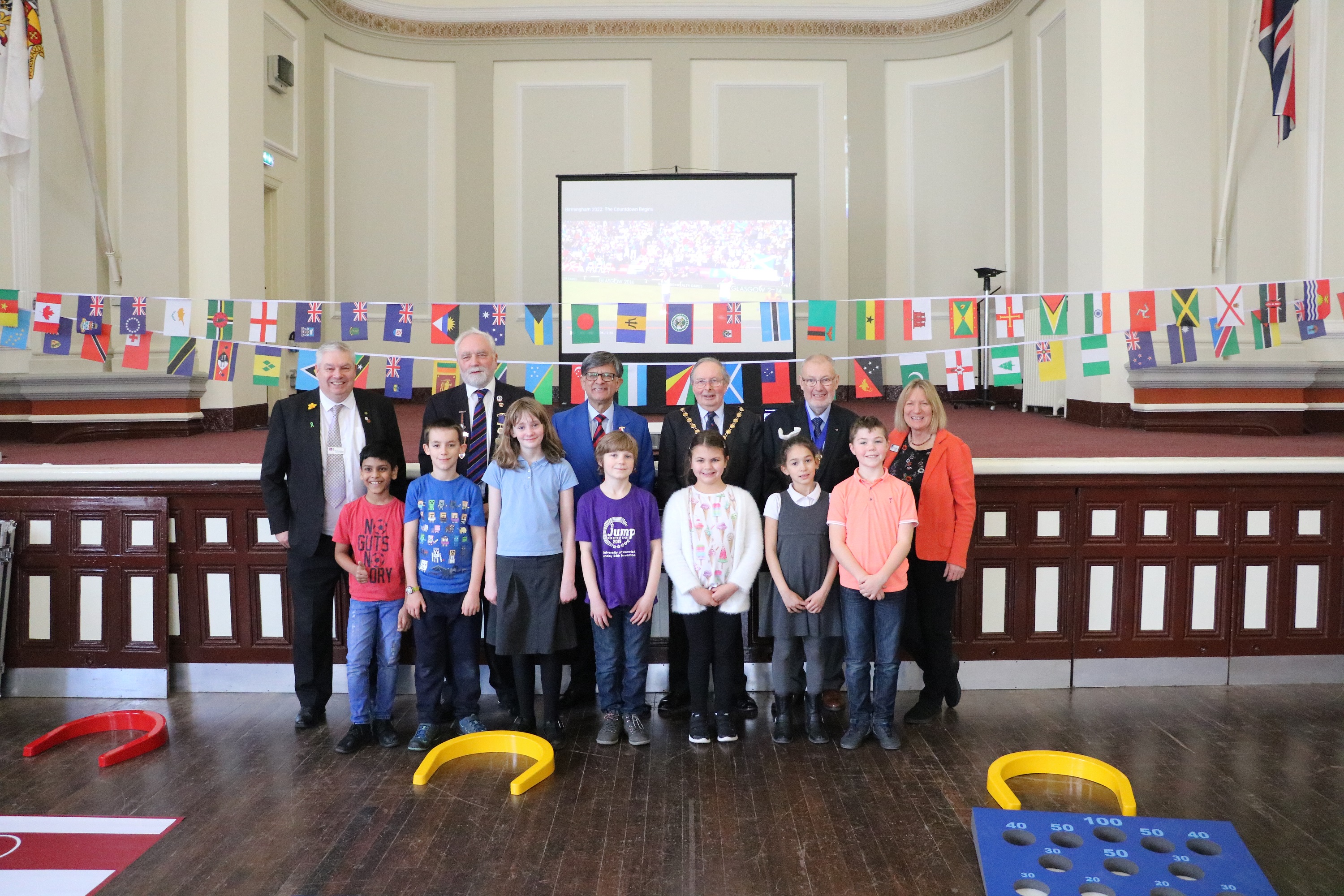 Pictured are pupils from Clapham Terrace Primary School with, David Wigman - Royal Leamington Spa Bowling Club Chairman, Deepak Tanna - Bowls England Junior Vice President, Cllr George Illingworth Chairman, Warwick District Council, Cllr Martyn Ashworth, Vice-Chairman Warwick District Council and Christina Boxer Commonwealth Games Project Manager, Warwick District Council.
---
Club Coaches
The club are very glad to report that yesterday (1st March 2020) five club members successfully qualified as Coach Bowls Level 1 coaches.
The club would like to thank them all for the time that they spent obtaining this qualification and also to Jerry Horne our Level 2 coach for his help and guidance during the process.
Those who qualified yesterday are Anita Cowdrill, Caroline Edwards, Michael Edwards, Jane Wigman and David Wigman.
---
2019 Club Competition Finals
The finals of all this season's club competitions were played over the weekend of 7th/8th September and the assembled spectators were treated to some excellent bowls to watch in glorious weather.
Twenty-seven members were involved in one or more of the 14 finals, which is a credit to the club.
Very well done to you all and congratulations to everyone who went home with a trophy.
Particular congratulations to Anita Cowdrill and Graham White, our new ladies and men's 4-Wood Singles Champions, the first time that either has won the title.
Photographs of all the competition winners being presented with their trophies can be viewed under the"Gallery" tab on the HOME page.
---
Improvement works to Victoria Park Bowling Greens
Warwick District Council continue to invest in the bowling greens at Victoria Park, with a programme of works that started in September 2019 and will be completed in June 2021. IdVerde, the company who maintain the greens, have been awarded the contract to carry out the works.
The works will be in 2 parts
2019 – Greens C & D
2020 – Greens A & B
The works will involve the removal of the turf from the greens, removal of excessive thatch and organic material, and the levelling of the playing surface. A new green will then be created by reseeding the greens. At the same time, works will be carried out to the banks and ditches.
Starting in September each year allows the crucial reseeding to happen as early as possible, maximising the growing season for the new greens. This programme should mean that greens are back in use by June the following year.
The greens that are not being upgraded will remain in use for the normal playing season, along with the pavilion and changing rooms etc.
Parking on Archery Road and the Old Tennis Courts will not be affected by the works.
---
Courier League - RLS 3
Following on from the success of RLS 2 in becoming Champions of Courier League Division 3 the club are very pleased to report that RLS 3 have today been confirmed as Runners Up in the same division.
The club would like to congratulate the team members on their success - Chris Tarrant (captain), Ian Plant, David Turner, Roger Mann, Roger Hampson, Tony Allibone, Mervyn Kimberley, Ron Deavall, Michael Edwards, Roy Sager, John Murray and also those who stood in as replacements during the season - Phil Lennon, Mervyn Taylor, Dave Handy, Keith Young and David Wigman.
---
Dawn Horne, Jenny Wickens and Janice White - 2019 Ladies County Triples Champions
Congratulations to Dawn, Jenny and Janice who beat Zoe Barnard-Rowland, Wendy Maries and Yvonne Pick from Avenue 19-10 in the final of this years Warwickshire Women's BA Triples competition at a very wet Southam BC on 27th July. Unfortunately, their bid to be the first Warwickshire triple since 1983 to complete a "double", and also win the 2-wood format Benevolent Triples competition failed at the last hurdle when they lost 18-9 in the final to Margaret Grosvenor (Lillington), Joy Cooke (Blossomfield) and Sue Hornsby (Lillington). Many thanks to all those club members who travelled to Southam to support the ladies in all that rain!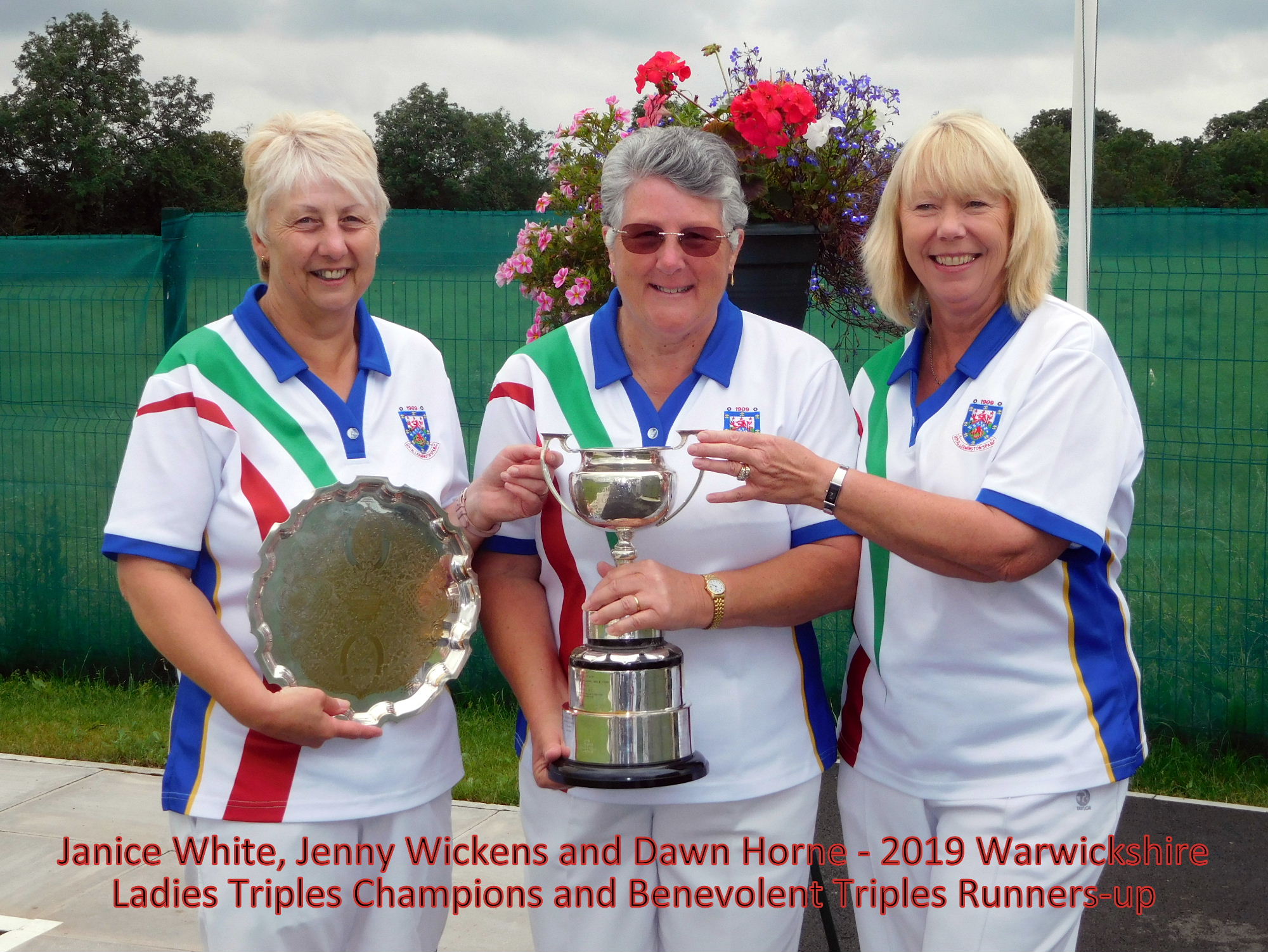 ---
Courier League - RLS 2
Following a 4-4 draw against Warwick Boat Club we are pleased to be able to confirm that RLS 2 cannot be caught by any other team in the Courier League Division 3 and as a result have won the divisional championship and are promoted to Division 2 for next years competition.
The club would like to congratulate the team members on their success - David Wigman (captain), Barry Dale, Alan Taylor, Mervyn Taylor, Derek Bolam, Les Caborne, Philip Lennon, Malcolm Otton, Bill Griffin, Dave Handy, Vic Paget, David Whyatt and also those who stood in for one match as replacements during the season - Jean Leyland, Jane Whyatt, Ian Plant and Dave Turner.
---
RLSBC Win Ivens Cup at 2019 Men's County Finals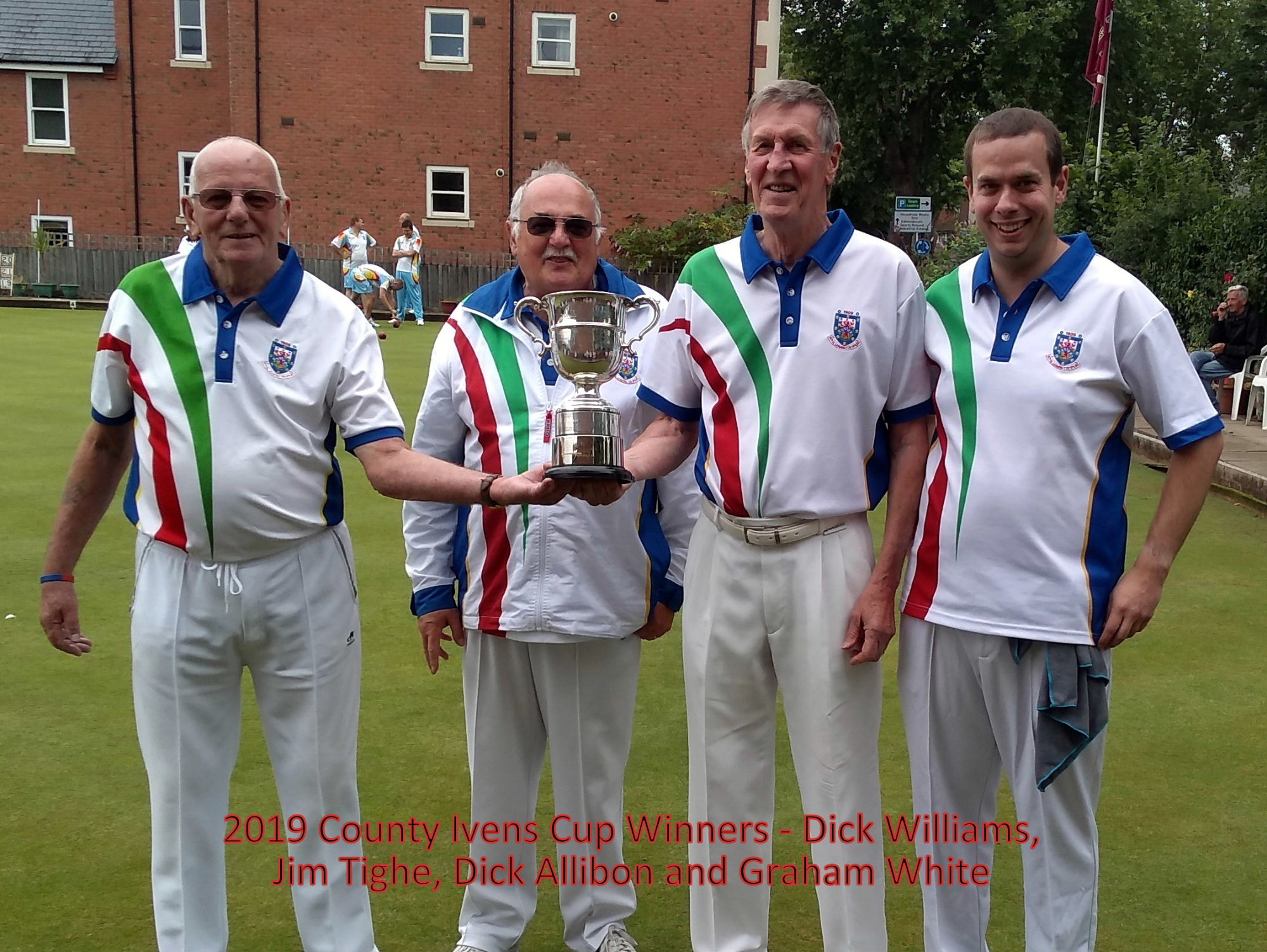 Not to be outdone by the ladies, there has also been success for the club at the men's County finals, played at Avenue BC on 28th July. In the Ivens Cup, the rink of Dick Allibon, Jim Tighe, Graham White and Dick Williams, having qualified for the finals as winners of the South Warwickshire section, faced the Birmingham area winners, Sherwood Park, in the semi-final. Despite being well ahead at one point, an eventually narrow 21-19 win was sufficient to put the four through to the final, to play a team from Coventry Avenue, which had beaten Rugby area winners Thornfield, in their semi-final. In a tense game, a series of singles ensured that we were always just ahead on the scoreboard but a dropped "4" and two dropped "3s" allowed Avenue to keep in touch and with 4 ends to play the lead was just one shot (15-14). However, a strong finish ensured we lifted the trophy for the first time since 1972, with a 23-14 final scoreline, and having only lost 5 ends throughout the whole match. Many congratulations to the team and once again, many thanks to all those club members who came to support the team on the day.
---
New members of any age, sex or ability are always welcome to join the club - why not come along to meet us soon!